You'll always know what's going on with our organization.
Pinwheel Masquerade Ball & Auction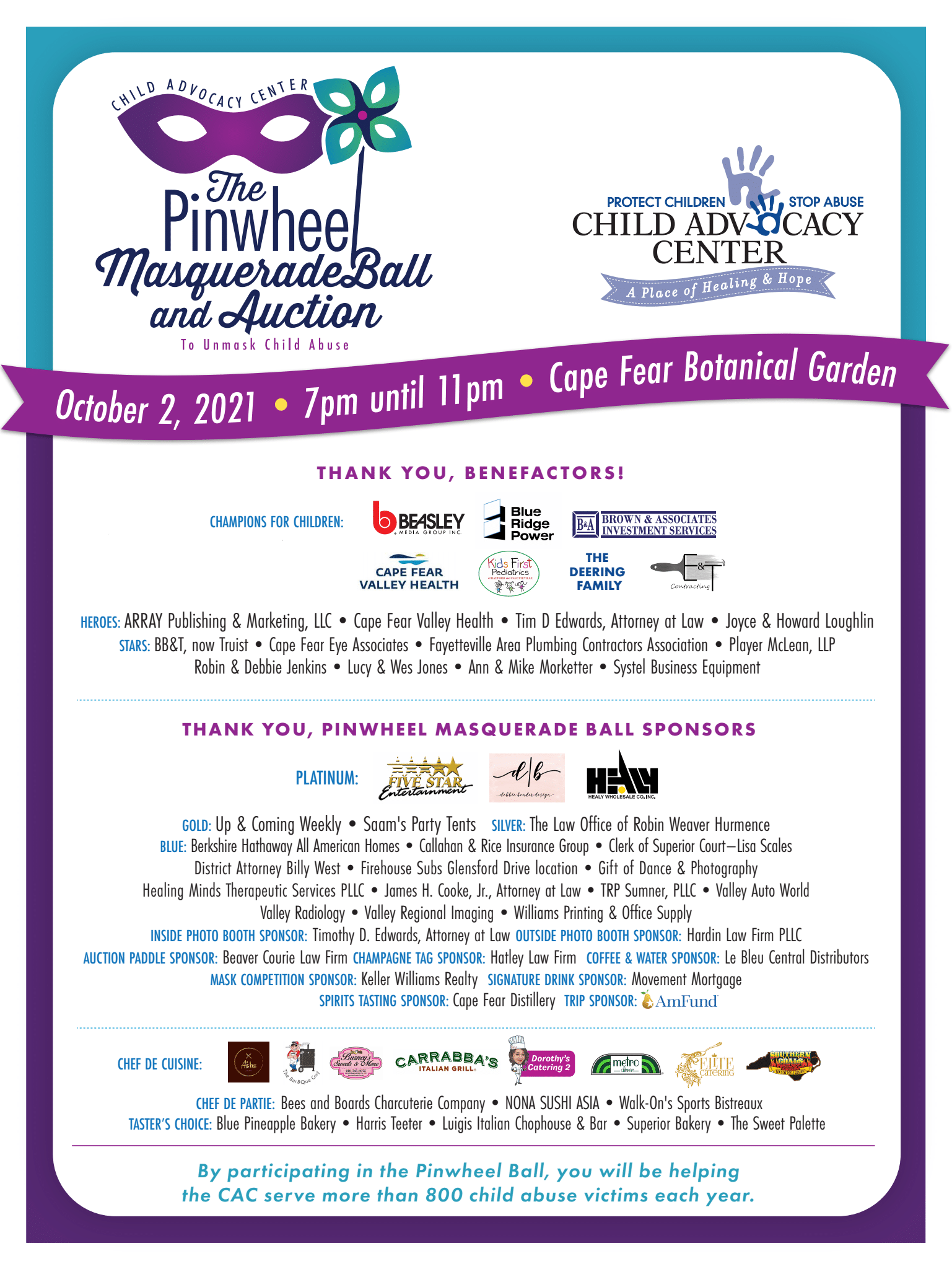 The Pinwheel Masquerade Ball & Auction is the premier event in Fayetteville. This elegant night features culinary delicacies, live and silent auctions and even better, it's all for a great cause!
Event pricing is as follows:
Single: $100.00
Couple: $175.00
8 VIP Reserved Table Seats: $1,200.00
We are incredibly thankful for all of our Pinwheel Masquerade Ball Event Sponsors, Culinary Sponsors and Corporate Benefactors!
Platinum Sponsors: 5-Star Entertainment; Debbie Bender Designs; Healy Wholesale; A New Leaf Therapeutic Services PLLC
Gold Sponsors: Up & Coming Weekly; Saam's Party Tents, Inc.
Silver Sponsors: The Law Office of Robin Weaver Hurmence
Blue Sponsors: Berkshire Hathaway All American Homes; Callahan & Rice Insurance Group; Clerk of Superior Court-Lisa Scales; District Attorney Billy West; Gift of Dance & Photography; Firehouse Subs Glensford Drive; Healing Minds Therapeutic Services PLLC; James H. Cooke, Jr., Attorney at Law; TRP Sumner, PLLC; Valley Auto World; Valley Radiology; Valley Regional Imaging; Williams Printing & Office Supply
Inside Photo Booth Sponsor: Timothy D. Edwards, Attorney at Law
Outside Photo Booth Sponsor: Hardin Law Firm PLLC
Auction Paddle Sponsor: Beaver Courie Law Firm
Champagne Tag Sponsor: Hatley Law Firm
Coffee & Water Sponsor: Le Bleu Central Distributions
Mask Contest Sponsor: Keller Williams Realty
Signature Drink Sponsor: Movement Mortgage
Spirits Tasting Sponsor: Cape Fear Distillery
Trip Sponsor: AmFund
Culinary Sponsors:
Chef de Cuisine: Aisha's; The BarBQue Guy; Burney's of Fayetteville; Carrabba's Italian Grill; Dorothy's Catering 2; Metro Diner; Elite Catering; Southern Coals.
Chef de Partie: Bees and Boards Charcuterie Company; Nona Sushi Asia; Walk-On's Sports Bistreaux.
Taster's Choice: Blue Pineapple Bakery; Harris Teeter; Luigi's Italian Chophouse & Bar; Superior Bakery and The Sweet Palette.