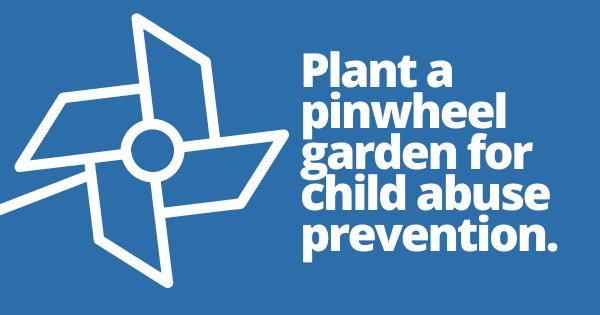 Spring has sprung, flowers are blooming, and pinwheels are popping up all over!
Gardens of bright blue pinwheels are being "planted" in numerous locations around Cumberland County in honor of April as Child Abuse Prevention Month. The pinwheel serves as a reminder of a happy, safe and carefree childhood, one that every child deserves. Adopted by Prevent Child Abuse America, more than a million pinwheels have been displayed nationwide since April 2008 when the campaign began. Locally, the Child Advocacy Center (CAC) is coordinating with area schools, organizations, businesses and agencies to sponsor the "gardens" and pinwheels will be on display in many locations around the county. This is the 13th year that the CAC has coordinated the campaign in Cumberland County, and each year the numbers have grown.
Pinwheels for Prevention started as a grassroots campaign from Prevent Child Abuse America. Prevent Child Abuse (PCA) is an organization that was founded in Chicago in 1972. Their mission is "to prevent the abuse and neglect of our nation's children". PCA chapters in Georgia, Florida, and Ohio were the very first to embrace the pinwheel idea. In 2008, this campaign spread nationwide through many chapters of PCA across the nation. The pinwheels are planted during the month of April, which is Child Abuse Prevention Month. The purpose of planting the pinwheels is to raise awareness and to change the public's belief and behavior about child abuse and neglect. Shining in the sun, the blue pinwheels represent the bright and happy future that every child deserves.
The Child Advocacy Center is partnering with seven other places within our community at the following locations:
Town of Hope Mills, March 30th at 12:00 pm
Festival Park, March 31st at 12:30 pm
Fayetteville Technical Community College, April 3rd at 12:00 pm
Methodist University, April 4th at 12:00 pm
Cumberland County Schools, Central Services, April 4th at 2:00 pm
Town of Spring Lake, April 5th at 12:00 pm
Fayetteville State University, April 6th at 12:00 pm
Join us during your lunch break for one of these pinwheel garden planting ceremonies to recognize the 808 children who were referred to the Child Advocacy Center during the Fiscal Year of 2021-22.
As another reminder of Child Abuse Prevention Month, volunteers from the Child Advocacy Center will decorate several of the black flowerpots downtown with pinwheels and signs about April being Child Abuse Prevention Month.
Downtown Fayetteville has many merchants who are coming together to help the Child Advocacy Center spread awareness about Child Abuse Prevention Month this April, and they're asking for the public's support. Visitors can #ShopBlueDowntown on select days in April and help these 20 businesses raise both awareness and funds for the CAC in a variety of ways. Visit our website for more details at www.CACFayNC.org.
In addition to our Pinwheels, the Child Advocacy will be hosting 'Monday with a Book' each week of April. Parents and children can visit our website at www.cacfaync.org or, our social media outlets on, Facebook or Instagram and listen to the body safety books.
Pinwheel Garden kits and more pinwheel gear are still available visit the following link to order yours today. https://www.cacfaync.org/how-to-help/pinwheel-gear.html
We hope that during the month of April that you will find ways to celebrate the children in your life. Find time to share an ice cream cone, go for a walk in the park, talk with them about their dreams, serve our community in some way together, etc.
As you see the pinwheels spinning in the sun this April, be reminded that the pinwheels represent the bright future for our children and our community. We want all children to live in stable, loving and stimulating environments – at home, at school and in the community.
Prevent Child Abuse America. (2013). Pinwheels for prevention. Retrieved from http://www.pinwheelsforprevention.org/learn_more/index.php
Prevent Child Abuse North Carolina. (2014). Plant a pinwheel garden. Retrieved from http://www.preventchildabusenc.org/index.cfm?fuseaction=cms.page&id=1086