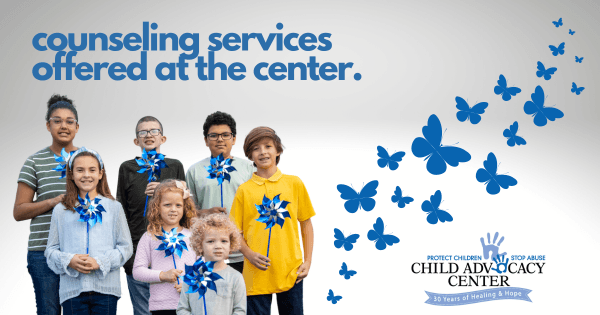 The Child Advocacy Center offers trauma focused therapy to youth ages 3 years and up Monday through Friday.  Therapy slots are provided primarily to youth who have received forensic interviews at the center and who have witnessed or experienced trauma.  The Center offers individual, group and family therapy.  Individual therapy is for youth 3 to 18 years old.  There are three youth groups offered and one non offending parent support  group.  All clinical services are free of charge to consumers.
The Center offers a variety of Trauma Focused treatment modalities in addition to creative art and play.  Trauma Focused Cognitive Behavioral therapy is the primary treatment model used.  Eye Movement Desensitization Reprocessing (EMDR) is also available and used as needed with consumers.  Trauma–focused therapy helps youth and their caregivers to manage feelings, talk about the trauma, and develop plans for feeling safe in the future. Individual sessions are scheduled on a biweekly schedule.
Group Therapy is provided every other Monday for boys ages 10-15 years old.  Two girl groups are held alternating Wednesdays, one middle school age girls group and one high  school girls group.  All groups are from 6pm-7:30pm.  The primary group curriculums used are VOICES, Girl Circle and Boys Council.  
Alternative for Families Cognitive Behavioral Therapy is an intervention model for families referred for child physical abuse, verbal, or physical aggression.  AFCBT is a specialized family therapy model used to promote the expression of positive social behaviors and discourage the use of aggressive behaviors.  
The Center Contracts with Across Milestones Support Services to provide on-site counseling services. Across Milestones has been in contract with the Center since 2019.  Furthermore, the current therapist has provided counseling at the center since 2015.  Each day we strive to offer our youth the best support and help support them in the healing process as well as learn healthy responses to triggers and trauma-related emotional symptoms.