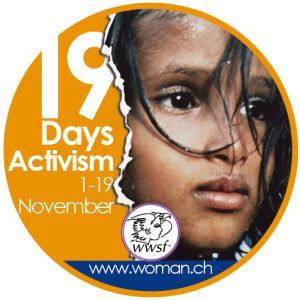 The Cumberland County Community Coalition for the Prevention of Child Sexual Abuse in conjunction with the Child Advocacy Center will participate in the 19 Days of Child Abuse Prevention Campaign from November 1-19.  Each year our goal of the campaign is to increase commitment, activities, and education and to mobilize communities throughout the world around child abuse prevention.  The 19 Days Campaign serves as a reminder to all of us that there is something each of us can do to make a difference in our community to prevent child abuse. According to the Monique Burr Foundation there are benefits of providing consistent prevention education implementation such as lowering dropout rates, improved school attendance and increased test scores and grade point averages.
Our main focus this year is to educate our youngest citizens, preschoolers, with a new curriculum we will be using with our body safety books. The curriculum comes from Monique Burr Foundation out of Florida. The curriculum is called "Child Safety Matters." The lesson will include an introduction to MBF's five safety rules:
Know What's Up
Spot Red Flags
Make a Move
Talk it Up
No Blame—No Shame
This lessen will help teach students developmentally appropriate strategies to promote their own personal safety. Students will learn how to report unsafe situations and to understand about talking to trusted adults.
Volunteer readers from the community will go out and share with the students. Many of these readers will represent agencies throughout the community such as Cumberland County Sheriff's Office, Fayetteville Police Department, CAC Staff, and board members.
On Thursday, November 4, 2021, we will be hosting a prevention luncheon, "Take a 'Bite' Out of Child Abuse." Our guest speaker is C. David Moody Jr from Atlanta, Georgia. He is owner of C.D. Moody Construction Company, Inc. He is featured in the child sexual abuse training "Stewards of Children" from Darkness to Light. He is the co-author of "Fighting Through the Fear—My Journey of Healing from Childhood Sexual Abuse." With Charles W. Cherry II. Cost for the luncheon will be $12. Tickets can be purchased through Eventbrite as well as going to our website at CACFayNC.org
In addition, we will be sponsoring along with The Arts Council of Fayetteville a Call for Art. The theme will be "YOU…Behind the Mask." Students that reside in Cumberland County may enter. Guidelines can be found on the CAC website (CACFayNC.org). Entries will need to be dropped off no later than October 22, 2021, at either the Child Advocacy Center (222 Rowan Street) or The Arts Council (301 Hay Street) by 5:00 pm. There will be prizes for 1st, 2nd, and 3rd place winners in each of the age group categories. The winners will be announced and recognized at the Prevention Luncheon on November 4, 2021.