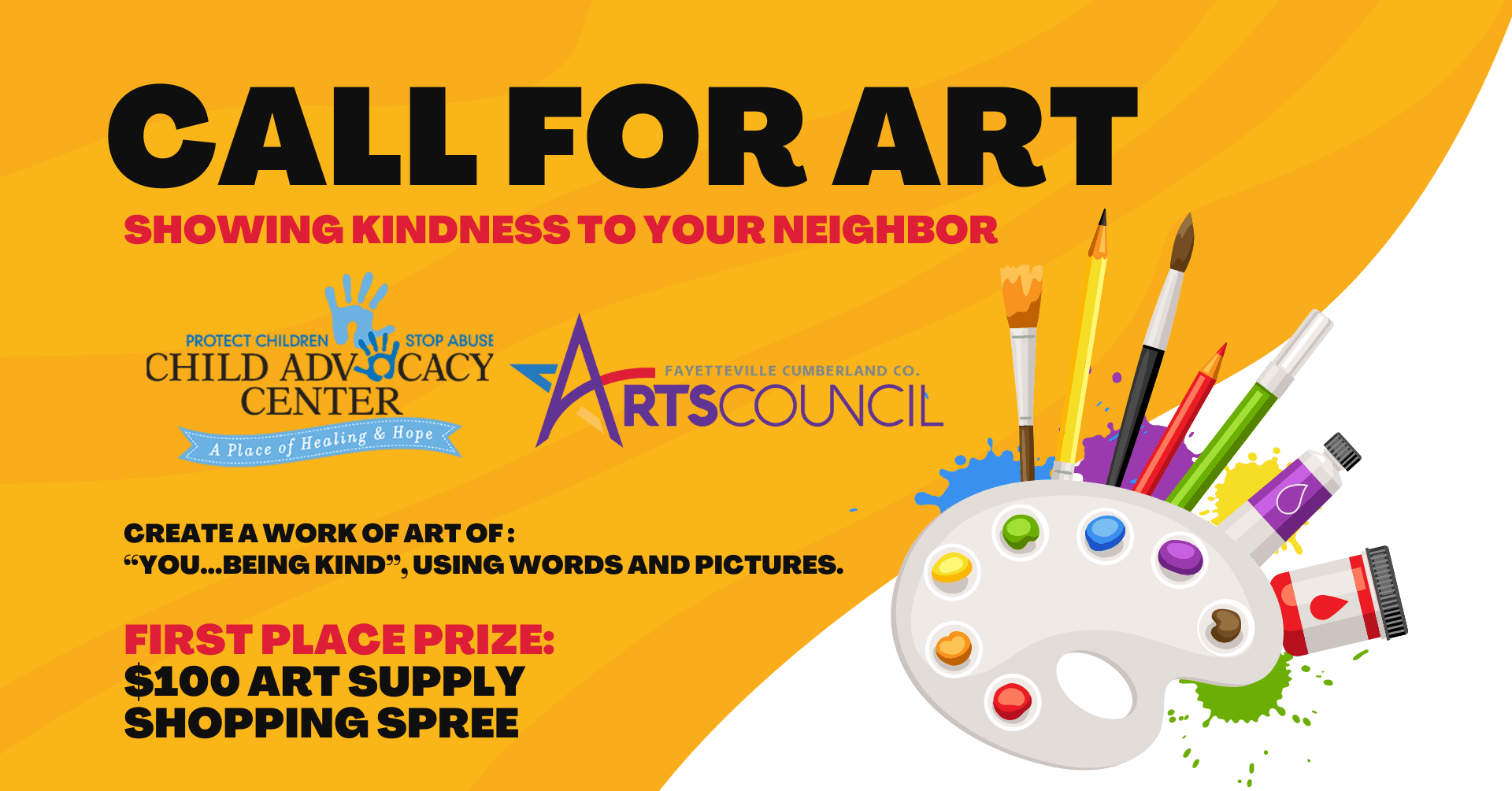 The Child Advocacy Center and the Arts Council of Fayetteville and Cumberland County are pleased to announce a call for art for the 19 Days of Child Abuse Prevention Art Contest. Cumberland County kindergarten through twelfth grade students are invited to create an art masterpiece showing kindness towards their neighbor. All visual work that is submitted will be grouped into the following competitive categories: kindergarten- second grade, third-fifth grade, middle school and high school. First, second and third place winners will be selected by a panel of members from the art community, The Child Advocacy Center and the Fayetteville Arts Council. The first place prize will be a $100 art supply shopping spree and art supply gift baskets for second and third places will be awarded.
The theme of the 19 Days of Child Abuse Prevention Art Contest is how could you show kindness to your neighbor? Helping with yard work? Bringing a plate of cookies? Walking their dog? Making them a get well or birthday card? Make a piece of art that shows you doing an act of kindness for a neighbor. Enter your landscape or portrait using oil, watercolor, acrylics, pastels, or mixed media on paper or canvas paper with a short essay describing the act of kindness. 
Hand deliver works of art with entry form to the Arts Council (301 Hay Street) or to the Child Advocacy Center (222 Rowan Street) between October 17 and 21. Winners will be notified via email and announced at the Art Contest Reception held at the Arts Council, 301 Hay Street, November 2, 2022 from 5:30—7:00 pm. 
The first 19 days of November are meant to be a call of awareness of child abuse prevention. Roberta Humphries, Executive Director of The Child Advocacy Center said. "By focusing on prevention of diverse types of violence and abuse against children and youth we aim to continue to bring light to this problem and the need to generate sufficient public interest and support for better protection and prevention measures."   
Download the registration form to enter the Showing Kindness to Your Neighbor Art Contest.