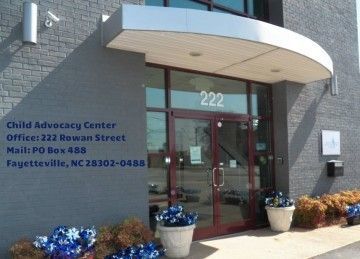 Lo Que Hacemos:
Los Servicios que el Child Advocacy Center Provee
The CAC:
Es un lugar donde los niños y las familias reciben servicios completos. Es un lugar donde los niños son escuchados, respetados y pueden decir su experiencia sólo una vez.
Ayuda a el MDT mediante la elaboración y coordinación de educación profesional continua de los miembros de nuestro equipo.
Está abierto gratuitamente a todos los residentes de CC, incluyendo Fort Bragg y Pope Air force Base.
Está disponible a los investigadores para entrevistas 24 horas al día, 7 días a la semana.
Reúne a representantes de servicios de protección de niños CC Dept de Social Service; Oficina del alguacil del CC; Departamento de policía de Fayetteville; Departamento de policía de Hope Mills; Departamento de policía de Spring Lake; la comunidad médica a través de Southern Regional Area Health Education Center, sistemas de salud de Cape Fear Valley y Womack Army Medical Center; Fiscalía CC; Guardian Ad Litem; y los Voluntarios de Crisis de Violación de CC.
Aloja una sesión semanal de revisión de casos donde se revisan aproximadamente 10 casos.
Proporciona conocimiento de abuso infantil e información de prevención para la comunidad.
Proporciona oportunidades de educación continua para nuestros miembros MDT y otros profesionales en nuestra comunidad. Estas oportunidades de capacitación son prestadas normalmente sin costo alguno para los asistentes.
Para aprender más sobre el centro de defensa del niño, por favor vea nuestro video a continuación.
Escenario de lo que ocurre en un caso de maltrato sexual de los niños.
(Los nombres utilizados en este escenario son ficticios.)
Billy mencionó a un compañero de clase que su Tío lo hizo sentir incómodo y él no quiere estar alrededor de él más. Su profesor oyó por casualidad su conversación y preguntó a Billy sobre lo que él había dicho. El profesor había asistido antes a dos talleres de prevención conducidos por el Child Advocacy Center, Reconocimiento y Reportaje de Abuso infantil y Darkness to Light – Stewards of Children, entonces ella se sintió cómoda preguntando a Billy sobre lo que ella había oído por casualidad. Basado en la respuesta de Billy el profesor notificó al trabajador social escolar que llamó al Departamento de Servicios Sociales Child Protective Services (CPS).
El trabajador de CPS archivó un informe con el Departamento de Policía Fayetteville y envió un informe al Child Advocacy Center. El trabajador de CPS y el policía fueron a la casa de Billy para conseguir un poco de información básica y asegurar que Billy estaba seguro y que el Tío no vivía en la casa. Ellos informaron a la mamá de Billy que iban a programar una entrevista a Billy en el Child Advocacy Center y le dieron el folleto informativo que el Child Advocacy Center produjo.
Durante el día de la entrevista Billy y su mamá, Sue, fueron al Child Advocacy Center (CAC). Ellos estaban nerviosos porque Billy hablaría de algo que le pasó a él. El defensor de  Víctima/Familia (VFA), empleado por el Child Advocacy Center, encontró a la familia en la puerta y se introdujo. Después de hablar con el VFA, Billy comenzó a sentirse más cómodo. Cuando él entró en la sala de espera de familia/cuarto de juegos, él comenzó a relajarse. El cuarto(espacio) era muy amistoso y vistoso. El VFA habló con Sue mientras Billy jugó y explicó lo que iba a pasar ese día y quién se encontraría con ella y hablaría con Billy. Mientras el VFA habló con Billy y su mamá, el trabajador de CPS, el Policía y el Entrevistador Forense, empleado por el Child Advocacy Center, se ruenieron y hablaron del caso brevemente en el Child Advocacy Center.
Tras su discusión el entrevistador forense desde el Child Advocacy Center entraron en la sala de espera familiar para hablar brevemente con la mamá de Billy para obtener algunos antecedentes del desarrollo sobre Billy. Luego de hablar brevemente con la mamá de Billy, ella camino a Billy a la sala de entrevista forense. En el camino Billy noto los coloridos murales en las paredes de diferentes animales. Cuando entraron en la habitación, el entrevistador le preguntó a Billy si notó algo acerca de esta sala que puede ser un poco diferente a la que solía. Billy señaló la cámara. El entrevistador dijo Billy que la cámara permite al detective y trabajador de CPS, que conoció anteriormente, para poder ver y escuchar la entrevista.
Sabiendo que será difícil para Billy hablar de lo que ha pasado, el entrevistador pidió a Billy que le contara sobre su familia, escuela, y amigos. Cuando Billy habló de su familia, él mencionó a su Tío Joe y que se sinete incómodo estar alrededor del Tío Joe. El entrevistador le pidió a Billy que le contara sobre eso. Billy describió como el Tío Joe había comenzado a mostrarle modos chulos(frescos) de jugar al baloncesto, pero finalmente, el Tío Joe comenzó a tocarlo y hacer cosas que lo hicieron sentir incómodo. Mientras Billy estaba en la entrevista, el VFA habló con Sue. El VFA se aseguró que las necesidades elementales de la familia estaban siendo encontradas(cumplidas) y hablaron de preocupaciones(intereses) de Sue y sus miedos. El VFA explicó que es el Equipo Multidisciplinario (MDT) del Child Advocacy Center, y como esto trabaja y funciona para coordinar investigaciones del abuso infantil. Sue fue capaz de hacer cualquier pregunta tenía en el momento y recibió información de contacto para la VFA así ella podría obtener más servicios según sea necesario.
Cuando la entrevista se terminó el Entrevistador Forense agradeció a Billy venir al CAC y hablar con ella. Billy entonces volvió al cuarto de juegos. Después de la entrevista, fue determinado que un examen médico sera necesario para Billy. El VFA proveyó a Sue de un folleto explicando el proceso médico y dio sus direcciones a la oficina del doctor donde Billy sera examinado por un Pediatra que se especializa en el abuso infantil.
Más tarde, el MDT se encontró en el Child Advocacy Center para examinar sus notas acerca de el caso de Billy. Fue determinado que había pruebas suficientes que el Tío Joe había abusado sexualmente de Billy. El MDT recomendó terapia para Billy y Sue para ayudarles a tratar con este trauma. El detective detuvo al Tío Joe.
El VFA siguio el contacto con la familia hasta que el caso fue llevado a juicio. Tío Joe fue condenado a prisión por abusar de Billy.