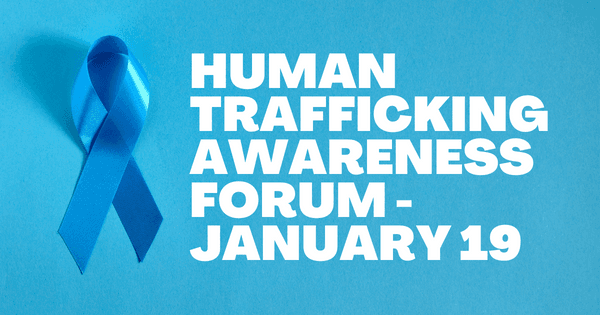 January is Human Trafficking Awareness Month
Human Trafficking Forum
Join us for a community discussion with professionals who advocate for the victims of human trafficking. Questions can be submitted to be considered for the panelists to answer. Displays from different agencies who assist trafficked victims will be in attendance with resources.
Panelists include:
Honorable Toni King, Chief District Court Judge - Judge Toni King is the Chief District Court Judge and runs WORTH Court—the Human Trafficking Court for Cumberland County.
Beverly Weeks, Cry Freedom - Beverly Weeks is an author, international speaker, ordained minister, and C.E.O. of Cry Freedom Missions, a non-profit who ministers to those who have lived experience in human trafficking.
Sarah Hallock, Communicare - Ms. Hallock is a Fayetteville native and has worked as the Executive Director of CommuniCare Inc, who works with at risk youth in Cumberland County.
Sgt. Nicole Mincey, CCSO - Nicole Mincey is the Senior Sergeant of the Cumberland County Sheriff's Office Criminal Intelligence Unit which focuses on gang related investigations and Human Trafficking.
Nancy Hagan, NC Human Trafficking Commission - Nancy Hagan currently serves the North Carolina Human Trafficking Commission as a Project Analyst. She has expertise in identifying and responding to both labor and sex trafficking.
There is no cost to attend this event, register now!