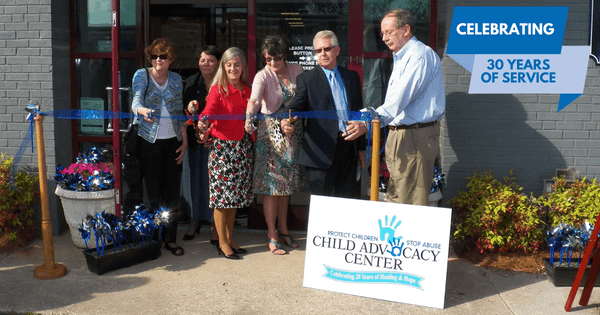 The Child Advocacy Center of Fayetteville, NC is celebrating it's 30th year of operation in 2023.
In 1993, in Cumberland County, a group of professionals began meeting to find a better way to manage reports of child sexual abuse. These professionals knew that the investigative methods used at that time increased the trauma suffered by children. Once a child reported sexual abuse, the child was interviewed by numerous individuals - school teachers, counselors, social workers, law enforcement officers and others. The child was required to tell the story over and over and was even interviewed sometimes in the very room where the abuse had occurred. After the report was made, the child was driven to Chapel Hill by a social worker or law enforcement officer for a medical examination since there was no one who could complete it locally. Often, no parent or family member could accompany the child. These actions only served to further traumatize the child.
These professionals, representing the Department of Social Services, city and county law enforcement, the courts, the military, medical providers, the school system, and mental health system, began meeting regularly to discuss ways to make the process less traumatic for the children and their families. After research and investigation, it was determined that Cumberland County needed a Child Advocacy Center, and the group set about making that happen.
They applied to the Governor's Crime Commission for a grant, and with donated space at Cape Fear Valley Medical Center, they opened the doors to our Child Advocacy Center (CAC) in 1993. This center enabled specially trained professionals to conduct joint interviews in a centralized and non-threatening location. In 1994, the Child Abuse Evaluation Clinic was opened at Southern Regional Area Health Education Center (SR-AHEC) allowing local physicians to be trained to provide necessary exams in Cumberland County. By 1996, best practice guidelines had been established, and ten agencies signed protocols signifying their support and willingness to implement the collaborative multi-disciplinary team approach to child abuse investigation, prosecution and treatment. The number of agencies has since grown to nineteen.
In 2000, with the assistance of a three-year signature grant from the Junior League of Fayetteville, the CAC moved to a larger building on Ray Avenue, expanded its programs and was accredited by the National Children's Alliance. Over time, in addition to training local social workers and law enforcement personnel in interviewing of children, the CAC hired a forensic interviewer to serve on staff and provide independent interviews of the children, which could be observed by social workers and law enforcement. The CAC also hired a victim advocate staff member to aid the child and family in accessing community resources such as the mental health system. In 2013, with the assistance of a generous donor, the CAC was able to put a down payment on a permanent location at 222 Rowan Street.
The CAC has also incorporated prevention of child abuse into its mission by offering trainings on Recognizing and Reporting Child Abuse, Darkness to Light Sexual Abuse Prevention, and Human Trafficking Awareness. Numerous organizations including child care centers, elementary schools, churches and law enforcement agencies have received the Partner in Prevention Seal. IN November, volunteers and staff go out to childcare facilities and lead body safety classes for the preschool classes. During the month of April, pinwheels are placed throughout the county by individuals and organizations who believe that we must protect our children by doing all that we can to prevent child abuse.
This year we are implementing a yearlong campaign titled—"Be Their Voice." The months that we have a specific emphasis we have a tagline that goes along with the theme:
January—Be Their Voice: Stop Human Trafficking! Speak Up!
Human Trafficking Awareness Month
April—Be Their Voice: Help Them Soar
April Child Abuse Prevention Month
June—Be Their Voice: Don't Be Quick to Click!
Internet Safety Month
November—Be Their Voice: Harvest Awareness: Grow Greatness
19 Days of Child Abuse Prevention
In 2014, the CAC was able to contract with a therapist to bring onsite therapy for clients that have come through the CAC. Currently there is individual counseling for the children. In addition to individual, we also offer a boys support group, middle school and high school girls groups that meet twice a month.
Over the past thirty years, the CAC has served more than 11,000 children and their families. Thanks to the continued generosity and dedication of hundreds of grantors, donors and volunteers, the CAC is on a firm foundation to fulfill its mission of providing healing and hope to child abuse victims while working towards its vision of a community where children live in a safe and nurturing environment free from sexual and physical abuse.
The Child Advocacy Center will commemorate its 30th anniversary on September 12th at a luncheon held at Studio 215.
For more information on trainings designed to prevent abuse, to volunteer or to donate, please visit the CAC website at www.CACFayNC.org or contact the CAC at 910-486-9700.
Contributors:
Elizabeth Keever served as District Court Judge from 1982 through 2014. She was a founding member of the Child Advocacy Center Board and is currently serving on the Board of Directors. Roberta Humphries has served as Executive Director since 2009. Faith Boehmer has served as the Prevention and Volunteer Coordinator since 2009.