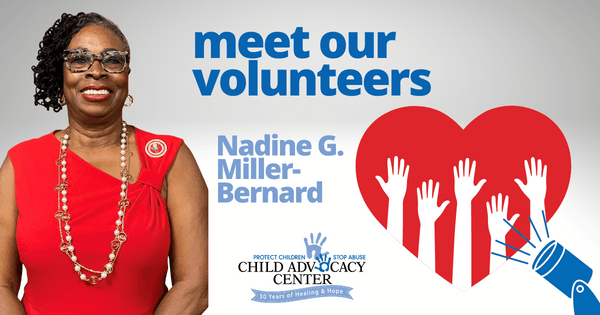 Nadine G. Miller-Bernard, has been volunteering with the Child Advocacy Center since 2015. During this year, the Fayetteville Alumnae Chapter of Delta Sigma Theta Sorority, Incorporated that she is a part of, was hosting the 2015 Area Founders Day in Fayetteville. They were searching out a place to support during their Founder's Day. They sought out the CAC. From there began a strong bond between the sorority and the center. Nadine found her niche in serving on the beginning stages of what now is called the Domestic Minor Sex Trafficking (DMST) planning committee. In 2017, she began serving on the CAC Board of Directors. In 2023, she was the first African American elected Chairperson for the Board of Directors.
Nadine sees volunteering as important. It is a way for individuals to use their passion and give back to those in need and help to build community resources. She enjoys her time as a volunteer as she is able to interact with the staff, other board members as well as other volunteers. She is a face to the community about the work of the CAC.
Children have been a part of her life for many years. She is a retired Physical Education teacher with Cumberland County Schools. She has been a Mentor Coach, coached sports and served in the US Army. Children have been woven into her life in a variety of ways. She wants to see the collaboration of adults and the community at large to assure that children are treated with compassion, to seek justice when they are not able to speak for themselves and ensure their overall safety are important aspects of taking care of our communities children.
When Nadine was asked if she had a funny story to share about her volunteer experience, she shared "I was attending the grand opening of the Biscuitville on Grove Street. We were all given shovels to dig for gift cards. I must have dug at least four medium sized holes and I did not find any gift cards. Everyone else around me was finding them! I kept on digging and I finally gave up. We all were laughing at my efforts. Finally, one of the managers placed a gift card under some dirt and nonchalantly pointed to it and I 'dug' it up. Yes, I was the entertainment that day."
If she was encouraging someone about volunteering, she would share with them about the immediate satisfaction—a feeling of a rewarding experience—and that they would have the opportunity to be a part of making a difference in the lives of children. The CAC may be the place for them.
In her other volunteer time, she can be founds serving through Veteran of Foreign Wars Post 6018, Operation Inasmuch, Community Homeless and Hunger Stand Down, South Carolina State Alumni Association, Wreaths Across America, Fayetteville Area Habitat for Humanity Women Build and Health Department (HIV/AIDS) and the Fayetteville Alumnae Chapter of Delta Sigma Theta Sorority, Incorporated.
To learn more about volunteering please visit the CAC website at www.cacfaync.org to learn more.