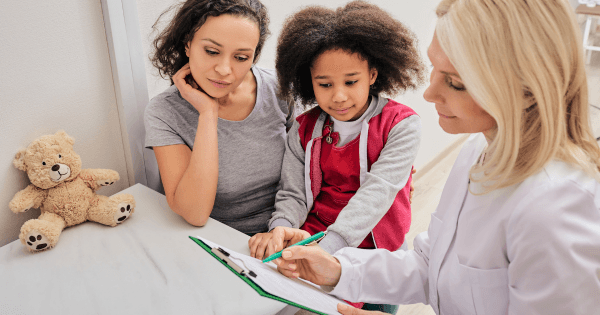 In September 2014, the Child Advocacy Center begin on site counseling services to youth who had received forensic interviews at the Cent The idea for onsite counseling services had been a goal of the Board and CAC staff as a way to promote continual healing and care for the youth seen. At the earlier phases of onsite counseling, there was a total of 15 available slots Monday through Wednesday from 2pm to 6pm. The child Advocacy Center was able to contract with Cape Fear valley Hospital Community Mental Health Department to provide therapists for the services. Three therapists were assigned one day each to provide counseling.
In September 2015, the therapists were offered the opportunity to be trained in Trauma Focused Cognitive Behavioral Therapy, the primary treatment modality used at most CAC for trauma therapy. One therapist, Oretha Harris, was able to attend and was trained in Huntersville AL. Ms. Harris was already trained in several other trauma focused treatment modalities but the opportunity to bring TFCBT services to our consumers was essential in the ongoing treatment and care of our clients.
In March 2016, it was agreed to have Ms. Harris as the primary therapist for the CAC instead of alternating since she was the only one trained in TFCBT as the objective was to provide trauma focused treatment to all consumers. Furthermore, the idea of offering group therapy to girls ages 12 to 17 years old was decided. VOICES a trauma focused group curriculum was the chosen curriculum as Ms. Harris was a trained facilitator.
With the help of high school volunteers and CAC interns the first girls group began in August 2016. Currently, we now offer two girls' groups: one for middle school students and one for high school students. Girl groups continue to use the VOICES curriculum as well as the Girl Circle Curriculum. In addition, girls are provided dinner and a host of activities and therapeutic tools. The girl groups continue to be facilitated by Ms. Harris along with Mrs. Latisha Culbreth-Robinson and amazing volunteers.
In 2018, a male consumer inquired about a Boys group because his sister was in the girls group. In August 2018, the first boys' group was conducted. Understanding the need for a male co-facilitator, Ms. Harris reached out to now board member Jimmy Hendley Jr who graciously volunteered. Mr. Hendley has continued to assist with the boy's group and in 2022, a male intern also began assistance with the group. Currently, the group is led primarily by the two gentlemen with guidance from Ms. Harris and support from Mrs. Culbreth-Robinson. The primary curriculum for boys' group is Boys Council through One Foundation. Boys group continue to meet every other Monday at 6pm.
Since the start of counseling services, there has been continuous development. In 2019, the CAC was awarded a grant allowing for the opportunity to expand the number of counseling slots offered as well as provide services for free. In June 2020, the goal of providing full time (35 slots) of free counseling services became reality. The Child Advocacy Center was able to contract with Across Milestones Support Services, Ms. Harris private practice to provide no cost trauma focused therapy.
Counseling for youth can improve self-confidence, self-esteem, and overall social skills. Trauma-focused therapy is designed to focus on how the trauma one has experienced may impact one's thoughts, feelings and behaviors and assist consumers in developing healthier ways of coping. The CAC has continued to identify ways to provide on-site services to our most vulnerable population. Even in the midst of Covid, counseling services remained consistent, and youth were provided the option of virtual or in-person services. Both options remain available to consumers for individual therapy.
Currently the CAC offers three trauma focused based therapies TFCBT, EMDR (Eye Movement Desensitization Reprocessing) and AF-CBT. AF-CBT (Alternative for Families Cognitive Behavioral Therapy a unique family therapy approach designed to intervene with families referred for child physical abuse, verbal, or physical aggression. As of 2022, the CAC offers this specific family therapy based on the child and family needs.
The CAC continues to expand and seek innovative ways to support and provide comprehensive counseling services to our clientele. Since 2014, we have made strides in what we are able to provide for our youth. Almost ten years of on-site counseling services. Our target is to continue to expand with hopes of adding additional therapists allowing for additional service slots and an opportunity for our youth to have a continuous of services at the CAC following their forensic interviews.