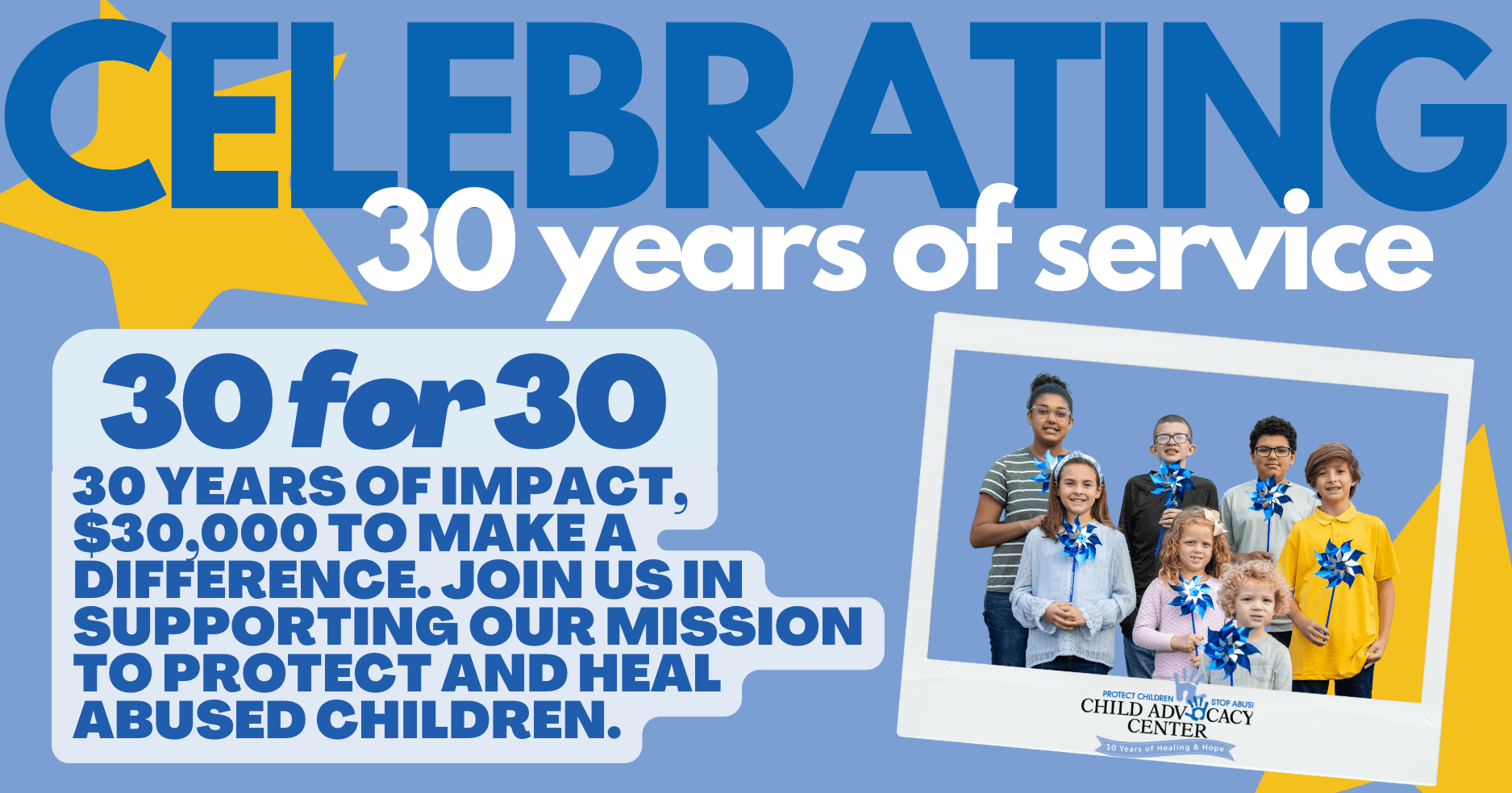 30 years ago in 1993, a group of concerned local professionals, who dealt with child abuse cases, began meeting to find a better way to help children in Cumberland County provide reports of child abuse. These professionals knew that the investigating methods used then increased the trauma suffered by the children. The child had to go from agency to agency to tell their story over and over to various individuals. After that report, the child was then driven to Chapel Hill by a social worker or law enforcement officer for a medical examination since no one locally could complete this examine. Often no parent or family member could even accompany the child to this exam.
Thanks to these caring and determined professionals and their research, the Child Advocacy Center (CAC) was developed. Now local children who are experiencing an abuse situation have a safe secure place to report their abuse only once and can be medically examined locally. Over the past 30 years, the CAC has served more than 11,000 children and their families. That alone shows the great need for such a center in our community.
The center continues to provide even more services to benefit the children. Mental health counseling is now provided at the center or by referral to local counselors. Plus, the CAC provides child abuse awareness and prevention information for the community.
To help celebrate the CAC's 30th anniversary and expanding services and programs, the CAC Board is kicking off a campaign, "30 for 30," for gifts to our endowment fund at the Cumberland Community Foundation. Since endowment gifts stay intact to grow forever, while only a percentage of the earnings are disbursed, they are gifts that keep on giving. So, these gifts will "keep on giving" to help the CAC "keep on helping" these children in abuse situations. The "30 for 30" Endowment Campaign goal is $30,000. This $30,000 will raise our endowment fund to approximately $500,000!
Please consider a donation to our "30 for 30" Endowment Campaign to celebrate our 30 years (1993 – 2023) of service!! You will be assisting us to help these children report their abuse in a caring location, and then receive counseling for a brighter future. These situations are so scary for these children, but with your wonderful financial help, we can provide healing and hope for them! Please join hands with us to protect children and provide child abuse awareness and prevention information to our community. Let's do this!
Remember, your endowment gifts will "keep on giving" to assist the CAC "keep on helping" our children experiencing child abuse!!!